Have you ever thought of the difficulty and struggle it is for so many people, carrying their boards along a trail to their favourite surf spot? Well because there was never any really satisfactory solution it was something ignored and not discussed. Dads being pestered by their kids, "hey dad I can't carry my board any further, please help me!", girls trying to appear strong enough that the guys don't mock them and the many many people whose arms simply don't fit right around their boards are struggling every time. In the 50 or more years of modern surfing, especially as boards grew in size again in the past 15 years, it's hard to imagine that a simple solution was not discovered.
However, now Aussie Surf Products (great surfing innovators) have brought a simple solution to all these struggling surfers around the world, the Surf Claw, it's a simple, comfortable, and absolutely affordable solution (check it out at www.surf-claw.com).

The owners of Aussie Surf Products are still amazed that in the past 50 years or more that nobody had come up with this simple idea. Now patented globally, the Surf Claw is becoming incredibly popular all around the world (already sold in over 20 countries) and is constantly receiving rave reviews like this one below.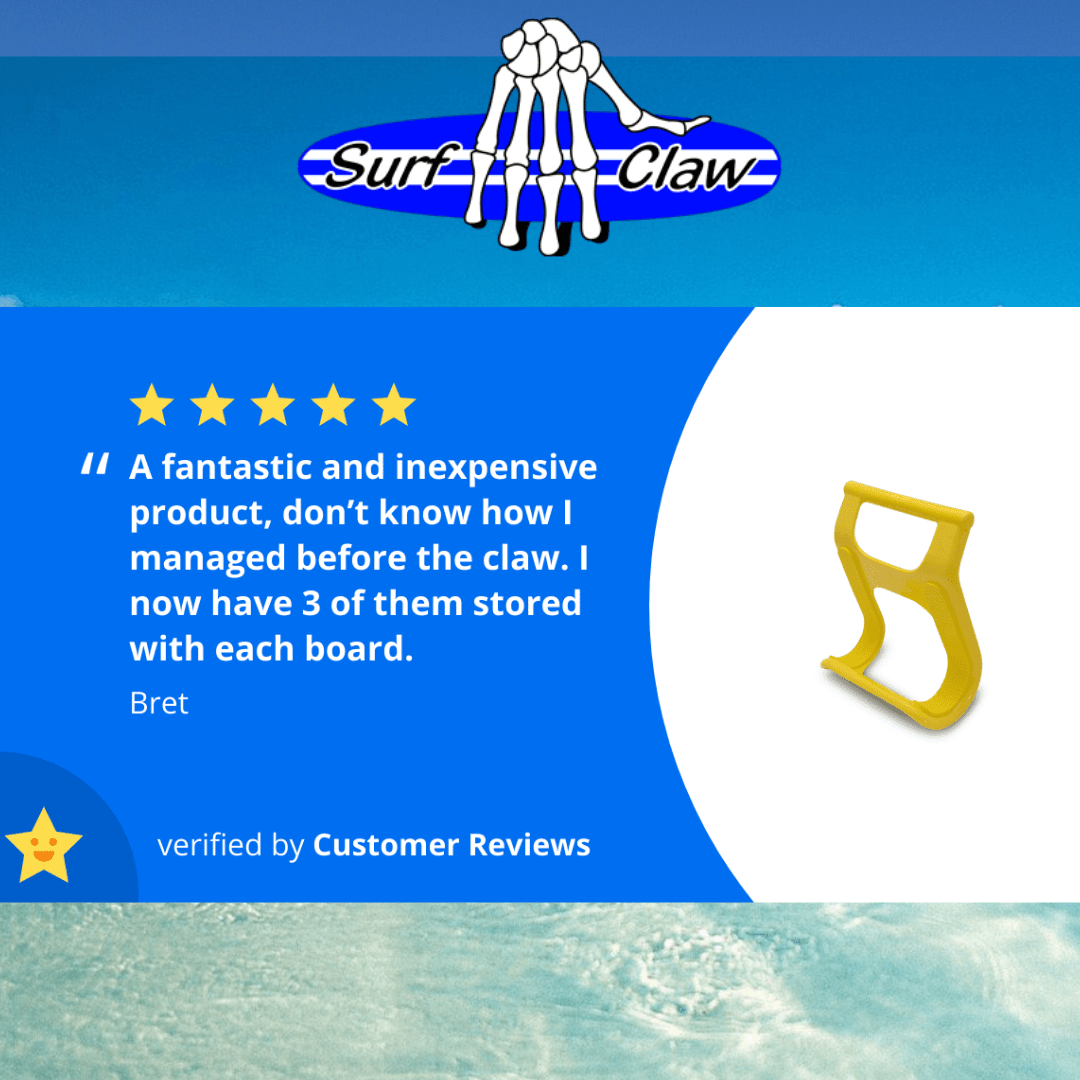 Surf schools everywhere are finding the Surf Claw has become an essential part of their equipment. So many surf schools have now adopted the Surf Claw around the world. Surf shops are selling them to all types of surfers; from families to women to guys who just discovered that using a Surf Claw just makes carrying your board much more comfortable.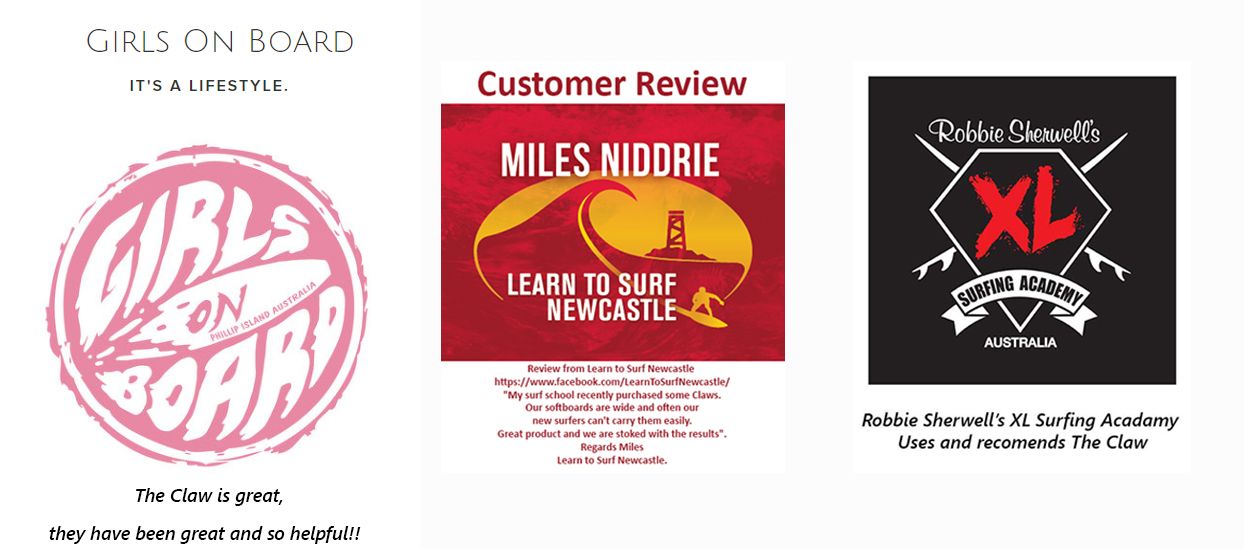 Surf shops also discovered that it increases their board sales, when a surfer is looking, especially, at a new longboard, they also consider how difficult it is to carry to their favourite surf spot and it becomes a part of their buying decision. However, the clever surf shop salesperson has a Surf Claw on hand beside the longboard rack, and when the customer picks up the board they pull out the Surf Claw and say "try this", suddenly the customer discovers it is so easy to carry this board, so now their decision is only based on whether the board will perform the way they want in the surf!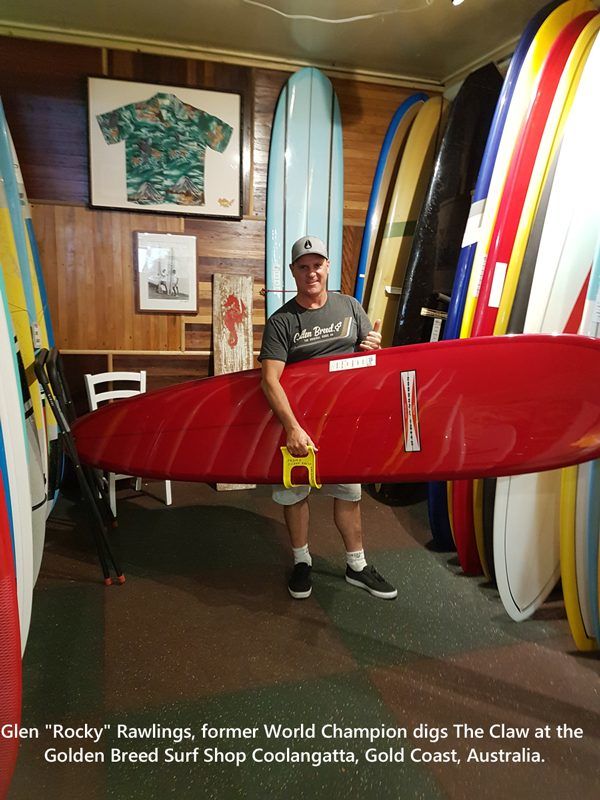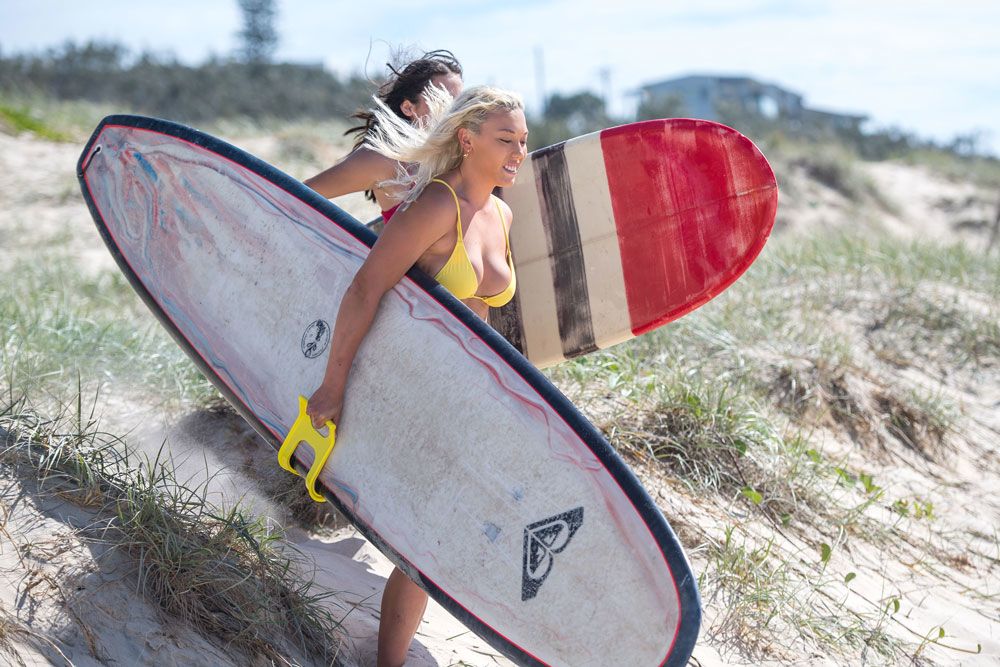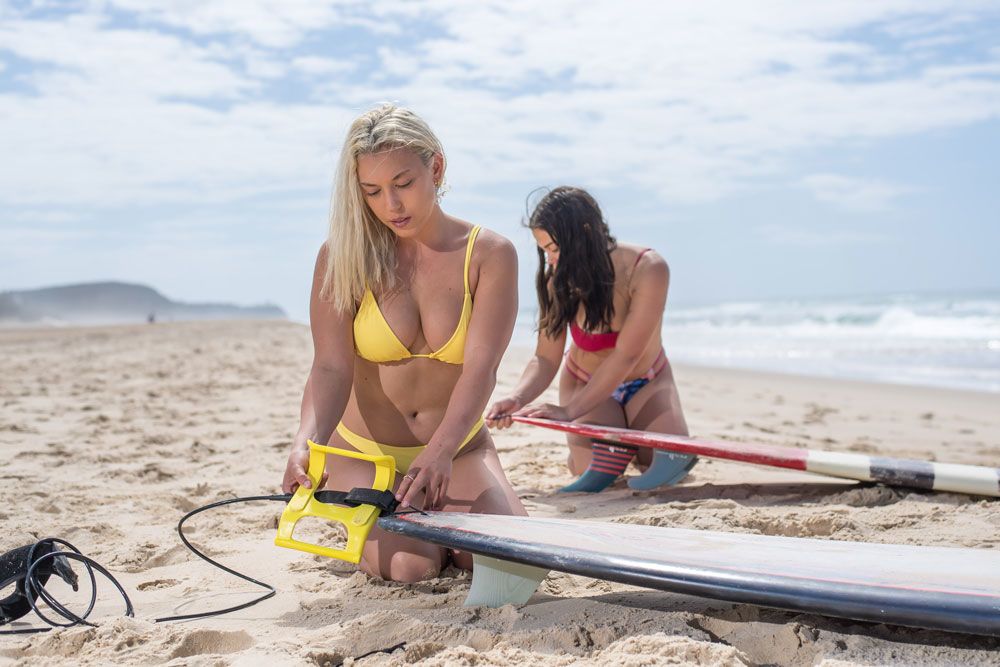 Future Innovations
What does the future hold in surfing? Technology in many ways is advancing faster than we could have ever imagined. Aussie Surf Products is focused on observing the tech trends and how these can integrate into a surfer's life. The owners of Aussie Surf Products say they are focused on the development of the Surfer's Lifestyle, introducing and developing new product ranges that will enhance a surfer's lifestyle in every way they can imagine. Development of the Surf Claw brand is based on the concept of secure comfort for the surfer whether it is carrying their surfboard, staying comfortably on their board when surfing and retaining their board when it's lost. "Get a Grip with the Surf Claw" is the motto of this growing range of products.
Coming soon: "Get a Grip with a Surf Claw"
It will include such items as:
• Surf Claw – surfboard carry handle – Current
• SUP Claw handle – coming in November 2020 – a larger version of the very successful Surf Claw
• Inflatable roll-up surfboards to travel anywhere in a backpack
• Motorised Jet-Boards – no need for tow-ins
• Surf Claw Legropes (leashes) – new innovative leg/ankle grip
• Surf Claw Rock Hoppers – thin sock-like shoe to protect the soles of your feet from rocks, barnacles and coral and prevent slipping
• Surf Claw Wax – natural based wax with ultimate grip
• Surf Claw Deck Pads – new innovative nonslip and low rash silicone grip
• Surf Claw Rash Shirt – differing designs for non-slip and padded for rib comfort
• Surf Claw Hats – designed to stay on, not get lost and give good sun protection
• Surf Claw Wetsuits – made for comfort, protection and low slip
• Surf Claw Board Racks/Straps – keep your board safe and secure on your car (also scooter and bicycle systems coming)
• Surf Claw Board Storage – keep your quiver safe and secure at home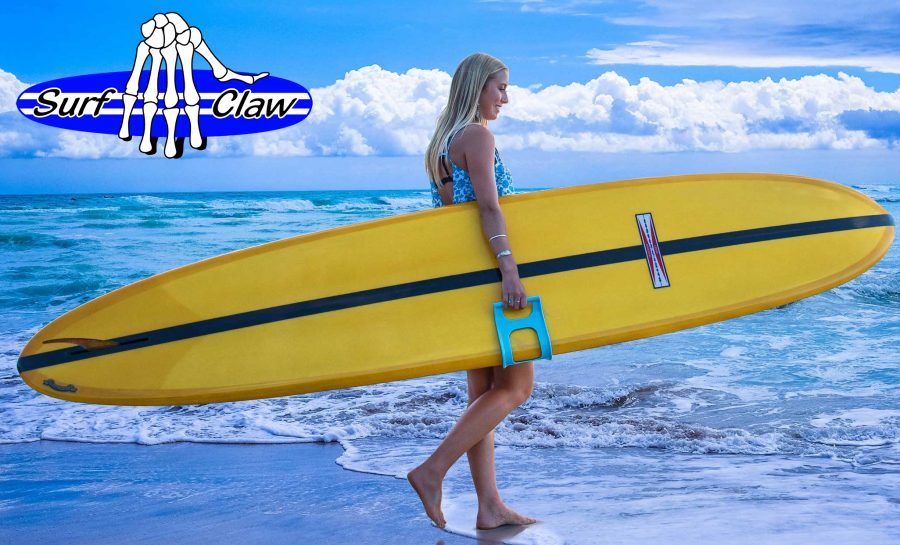 Aussie Surf Product's Mission
"The One Stop Surf Shop" & "The Surfing Innovators"
Will include:
"The Surf Claw" Product Lines plus
Surfer's Accessories:
• Photography Drones; automatic following waterproof drones
• Ear Protection
• Changing Matts
• Smart Surfer's Watches
• Camera Equipment (like Go Pro)
• Board Bags
• Surf Glasses/Goggles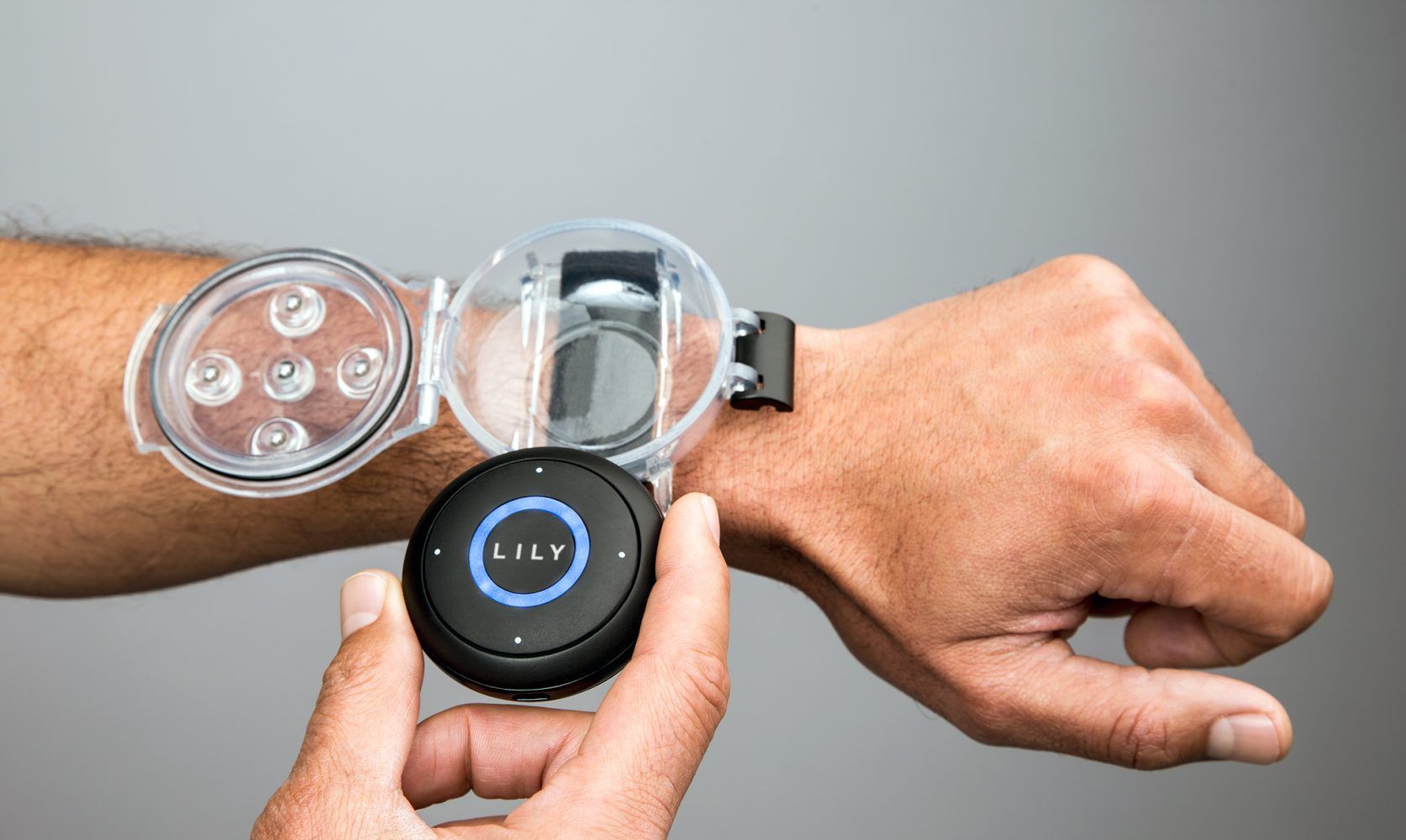 "Follow Me" drones that can be programmed to track and follow you and film you at the angle you set, the ultimate selfie video surf tool!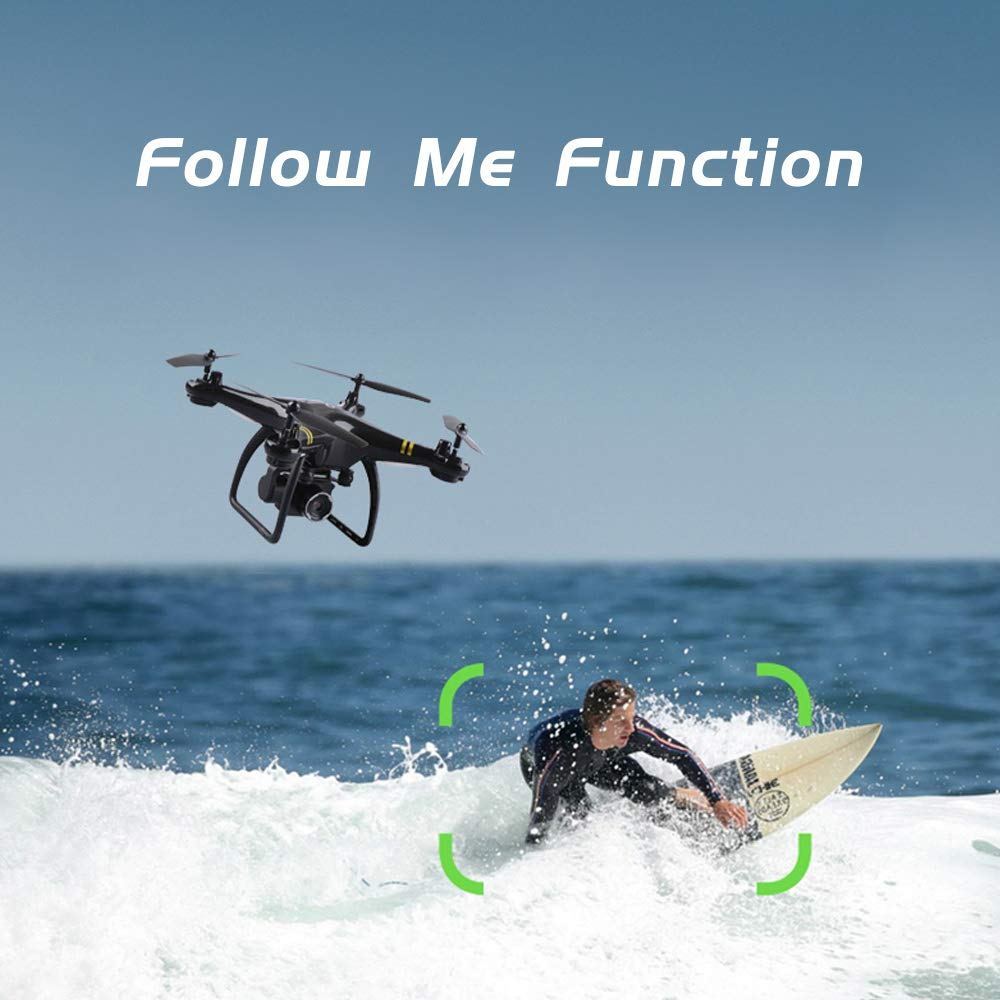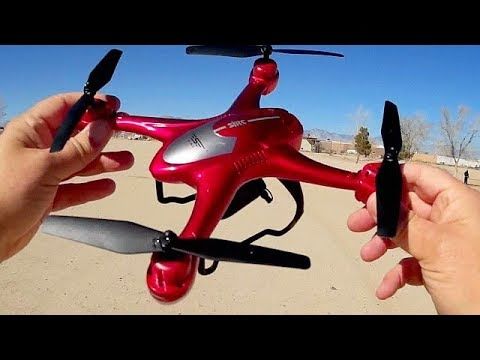 If you enjoy our Blog Posts please subscribe below with your email and you will be notified whenever a new interesting surfing tale is published!
Also please use the Icons below to share this with your friends.
Aloha and good surfing!!