By Martin (Marty) Olsen
In its early days, big wave surfing was generally only recognised in Hawaii. In Australia, the waves were considered to be of great quality but only of medium size with Bells Beach, Margret River a few remote beaches south of Margret River being regarded as having the occasional session of larger waves. The only other notion of big wave surfing was occasionally from the swells generated by the frequent cyclones travelling down the east coast. However, with modern technology, new surfing methods and drive to explore the most remote regions in the search for those special places, big wave surfing developed into a very serious and globally recognised sport in Australia.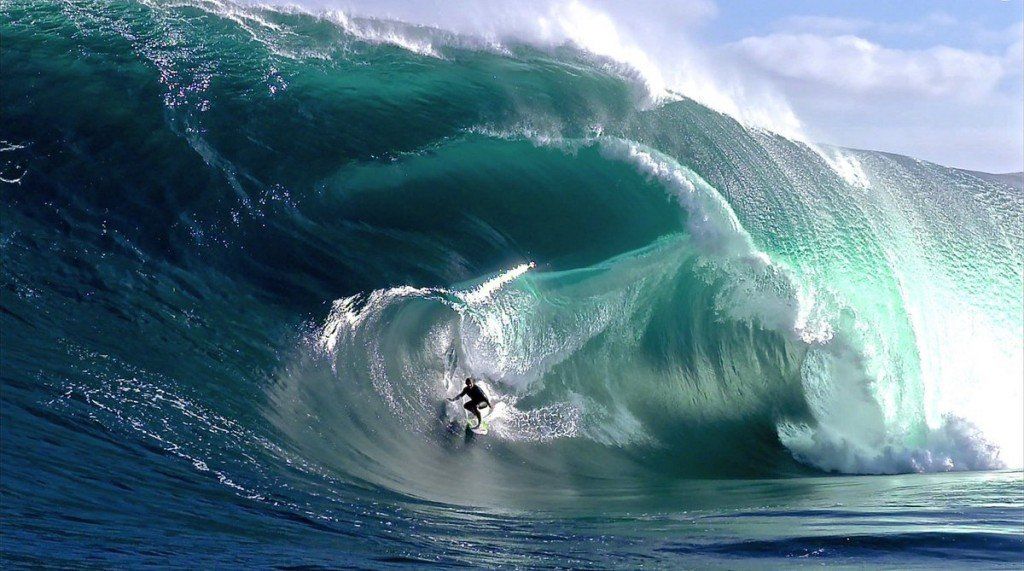 Places like Shipstern Bluff and Pedra Branca in Tasmania and The Right, Cyclops and the Cowaranup Bombie on the southern coast of Western Australia have come to the forefront of extreme big wave surfing globally.
Australia has also produced some great big wave surfers over the years such as:
The Surfers
Ross Clarke-Jones (6 June 1966) is an Australian big wave surfer and one of the undisputed kings of extreme big wave surfing. He originally came from Terrigal in the Central Coast, of New South Wales, Australia where he enjoyed surfing Terrigal Haven, a point break that produces rare waves lasting for up to 300 metres on a big swell.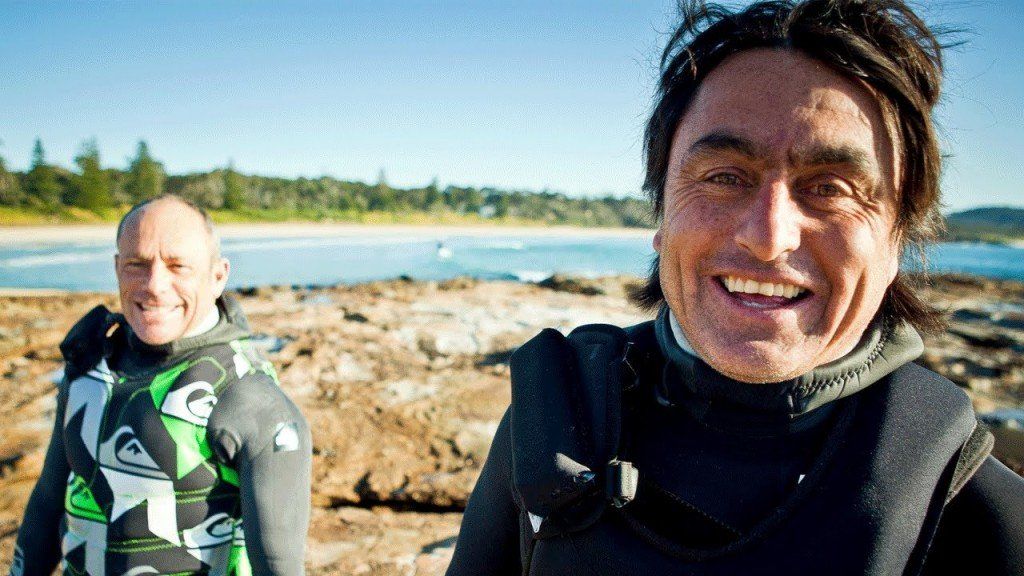 Ross Clarke-Jones is known for his love of huge waves, and along with his tow-in partner Tony Ray have taken on some of the biggest waves ever attempted. On 28 January 1998, the two were part of a small group of surfers who rode giant Outside Log Cabins on the north shore of Oahu in Hawaii. Wave faces were anything between 50 and 80 feet. Other surfers included Noah Johnson, Aaron Lambert, Cheyne Horan, Dan Moore, and others. Clarke-Jones and Ray had a memorable moment when both ski and surfer were caught and pummeled by a 60′ wave, knocking them both into the water.
Clarke-Jones is a perennial invitee to the Quiksilver Eddie Aikau Big Wave contest held at Waimea Bay and in minimum 20′-25′ surf. In 2000/2001, he won the Eddie, becoming the first non-Hawaiian to do so. He continues to pursue big wave thrills in Hawaii, Australia, California, Tasmania, South Africa, and Europe.
He is known for surfing Shipsterns Bluff, Cow Bombie, and Pedra Branca.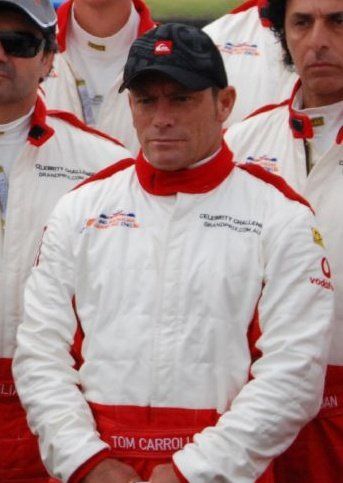 Thomas Victor "Tom" Carroll (born 26 November 1961, Newport, New South Wales, Australia) is an Australian former professional surfer from Sydney. He won the Australian Junior Title in 1978, the Pro Juniors in 1977 and 1980, the 1983 and 1984 ASP World Tour, and the 1987 Pipe Masters. He became the first surfing millionaire after signing a contract with Quiksilver in 1989.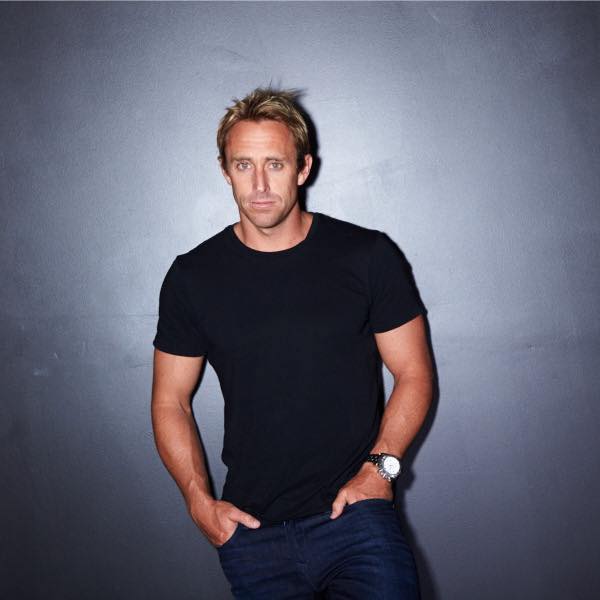 Mark Robert Visser (born 9 March 1983) is an Australian professional big wave surfer, author, keynote speaker and ocean adventurer. Visser is best known for being the first person to surf Hawaii's most dangerous wave Jaws, Maui, at night in 2011. It was documented in a film called 'Night Rider'.
Jeff Rowley (born 6 April 1979) is a professional big wave surfer from Torquay, Victoria, Australia. On 4 January 2012, he was the first Australian to paddle into a 50-foot plus (15 metre) wave at Jaws Peahi, Hawaii. Rowley placed 4th in the world at the 2012 Billabong XXL Big Wave Awards.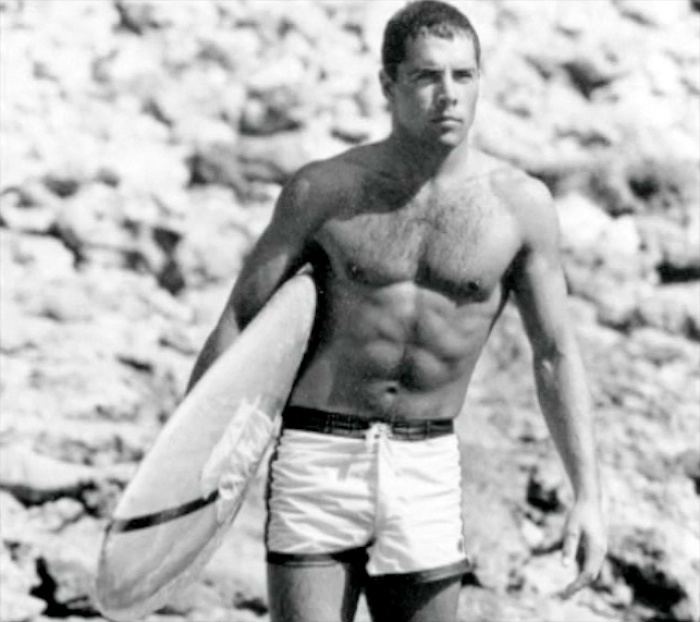 Bob Pike (1940 – 20 May 1999), full name Robert Hughes Pike, was an Australian surfer who specialized in big wave surfing. One of four sons born to a former surf champion in Sydney, he was taught the fundamentals by his father and entered his first competition in 1958. Developing a passion for big waves, he became one of Australia's most famous surfers and travelled to Hawaii in pursuit of the best and biggest surf. However, he disliked the professional competition that increasingly took over the sport after the 1960s and withdrew from the public eye. He continued to surf until an injury in 1997 left him unable to stand on a board. He committed suicide in 1999.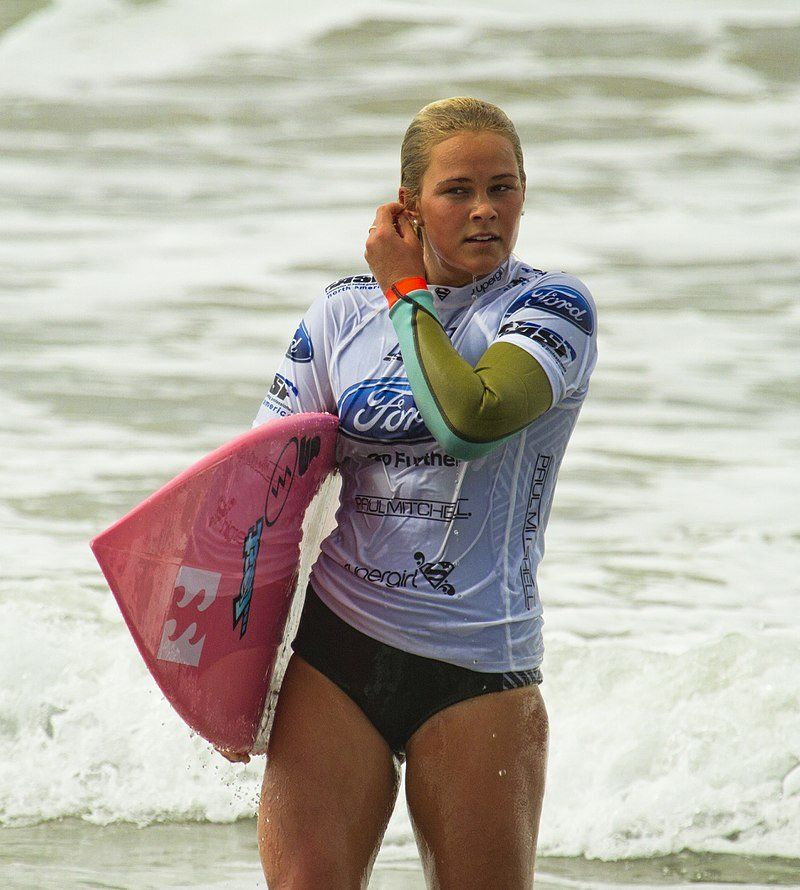 Felicity Palmateer (born 4 August 1992) is a professional surfer from Australia. In 2015 Palmateer rode the biggest wave ever ridden by a female Australian surfer at Cowaramup Bombora (aka Cow Bombie) off the coast of Margaret River, south of Perth. In 2016, she was invited to compete in the Pe'ahi Women's Challenge on the island of Maui.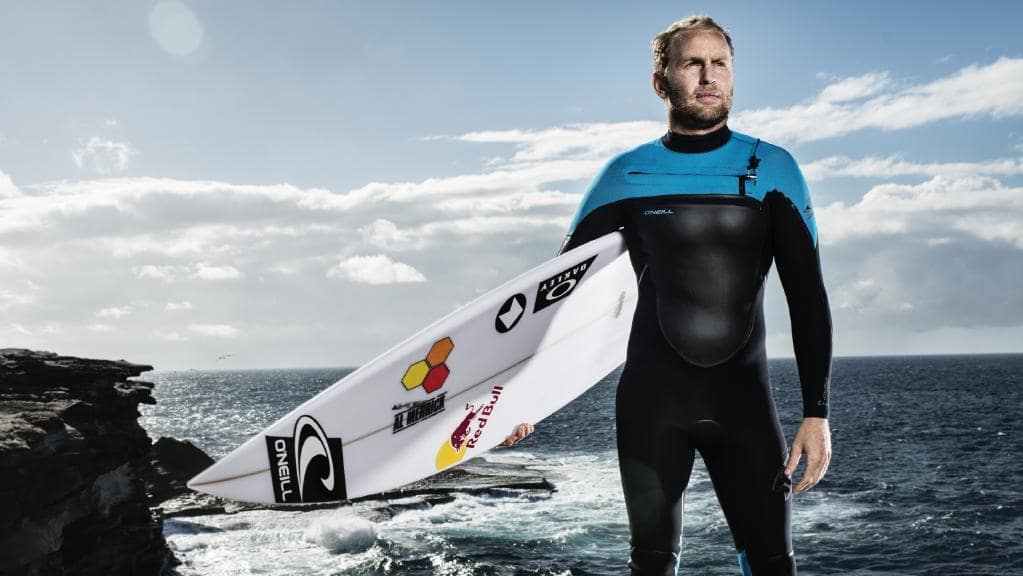 Mark Mathews is an Australian professional big wave surfer. Mathews was frightened of the ocean as a child and spent his childhood visits with family to the ocean sitting on the beach. Later he grew up surfing at Maroubra, New South Wales with fellow Bra Boys the Abberton brothers and his ambition was to become a big wave surfer. His first surfing of big waves occurred at Shipstern Bluff which saw him featured in photos and videos and gave him his start as a professional when sponsors were attracted. Mathews transition to big waves has seen him carve a niche in the sport as one of the top big wave surfers in the world. Mathews has surfed many of the world's heaviest and biggest waves including Cape Fear, NSW, Teahupoo, Tahiti, Jaws, Maui and The Right, WA.
He has won three Oakley Big Wave Awards.
2009 Biggest Wave Ridden
2010 Biggest Slab Award
2011 Biggest Wave Ridden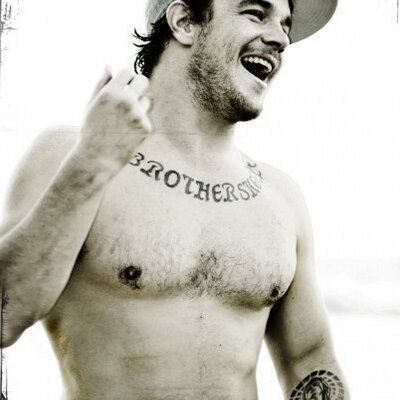 Koby Abberton (born 2 June 1979 in Maroubra, New South Wales), an Australian former professional surfer, is a member of the Australian surf gang, the Bra Boys. Together with his brothers, Abberton achieved national and international attention in 2007 with the release of a feature-length documentary entitled Bra Boys: Blood is Thicker than Water, written and directed by members of the Bra Boys.
The Waves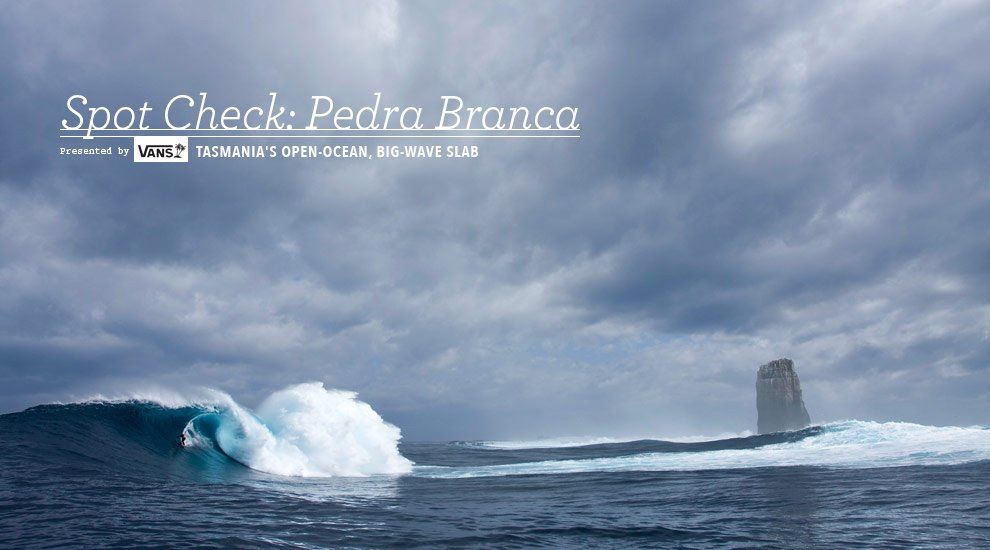 Pedra Branca is a rock islet or small island, located in the Southern Ocean, off the southern coast of Tasmania, Australia. The island is situated approximately 26 kilometres (16 mi) south southeast of South East Cape and is contained within the Southwest National Park, part of the Tasmanian Wilderness World Heritage Site. An erosional remnant of the Tasmanian mainland, the island is approximately 270 metres (890 ft) long, 100 metres (330 ft) wide, with an elevation of 60 metres (200 ft) above sea level. The island is estimated to have separated from the Tasmanian mainland at least 15,000 years ago.
Pedra Branca is home to a big wave surf break at a reef approximately 40 km offshore. Marty Paradisis was the first person to surf it. later, In 2008 Ross Clarke-Jones and Tom Carroll joined local surfers Marti Paradisis and brothers James and Tyler Hollmer-Cross to shoot a story about it which was featured on 60 Minutes.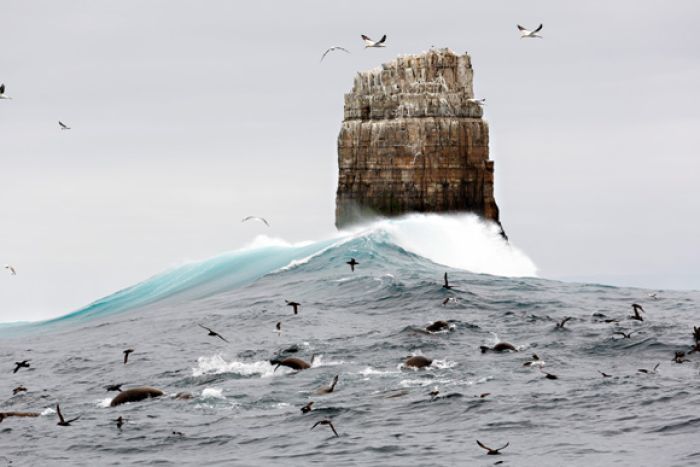 On 1 January 2016, a picture of Pedra Branca with seals and birds chasing fish, was the worldwide feature photograph for National Geographic. The picture was taken in late 2015 by Andy Chisholm who was among a group of surfers who had gone to surf and photograph the big waves. Another surfer, James Hollmer-Cross, was wiped out by a wave, broke his leg in two places, perforated an ear drum, tore a knee ligament and suffered a compression fracture in his shin bone.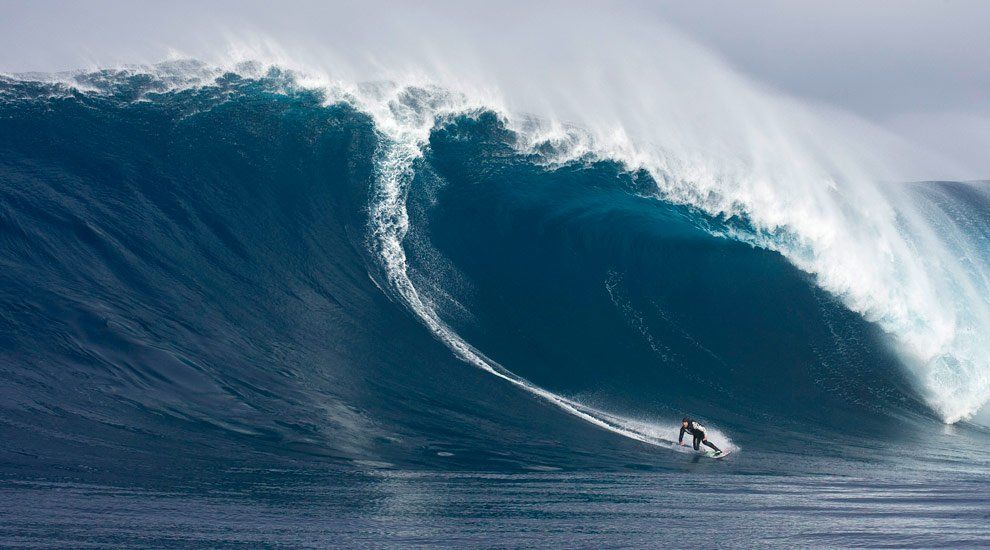 Tracks Magazine's Alex Workman said "There are a select few madmen down in Tasmania that have made it their life's mission to surf the biggest waves their region has to offer. Slabs that break in freezing cold water with some very big fish to keep your mind dancing. Twenty-seven kilometres off the coast of Tassie, Eddystone rock juts out of the ocean like a Roman obelisk. To the left is Pedra Branca, one of the heaviest waves in Australia" (from Tracks article – https://www.tracksmag.com.au/news/pedra-branca-424490).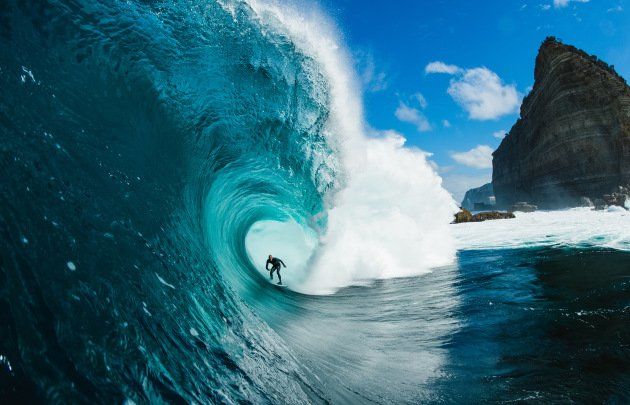 Shipstern Bluff (also known as Devil's Point or simply 'Shippies') is a globally-renowned big wave surfing location on the south eastern coast of Tasmania, Australia, on the Tasman Peninsula. Shipstern Bluff is located on the southern point of the Tasman Peninsular Tasmania, near Cape Raoul.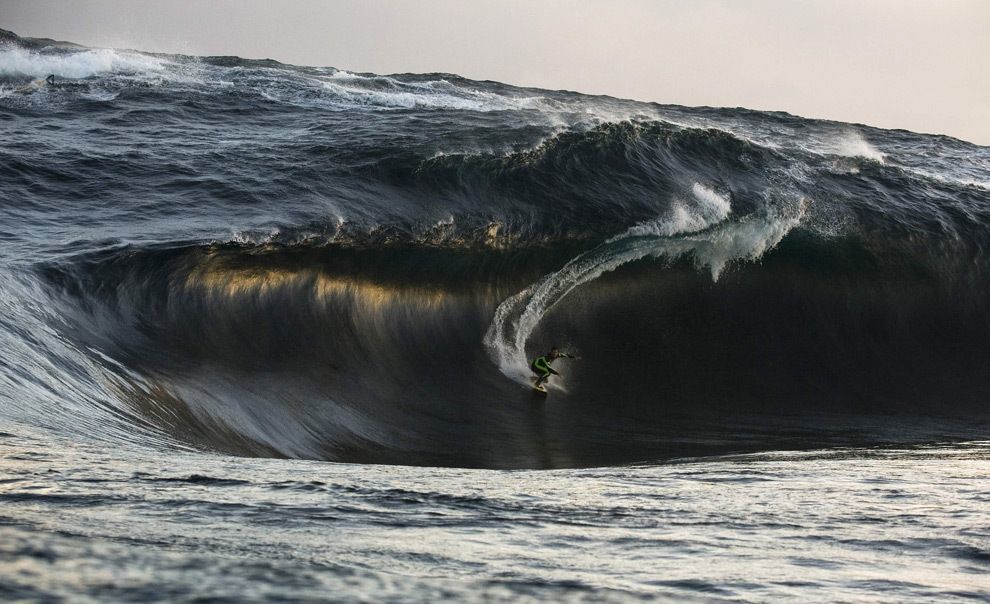 It is approximately a 30 km boat/jet ski ride from the coast to the Bluff and is regarded amongst the surfing community as one of the wildest and most dangerous locations in the world, both for the surf and the prevalence of great white sharks. The wave is also well known for its multi-faceted inner formations, referred to by many of its surfers as steps, which give the wave a unique appearance and greatly adds to the challenge of surfing it.
With its remote location in the Tasman Sea, it attracts frequent low-pressure systems that travel north from the South Pole, generating frequent big swells in freezing winter waters.
The geography of the break is not only advantageous to favorable surf conditions, but it's also welcoming to sea life such as seals, orcas, and great white sharks with several sightings over the years adding to the fear factor of this chilling coastline.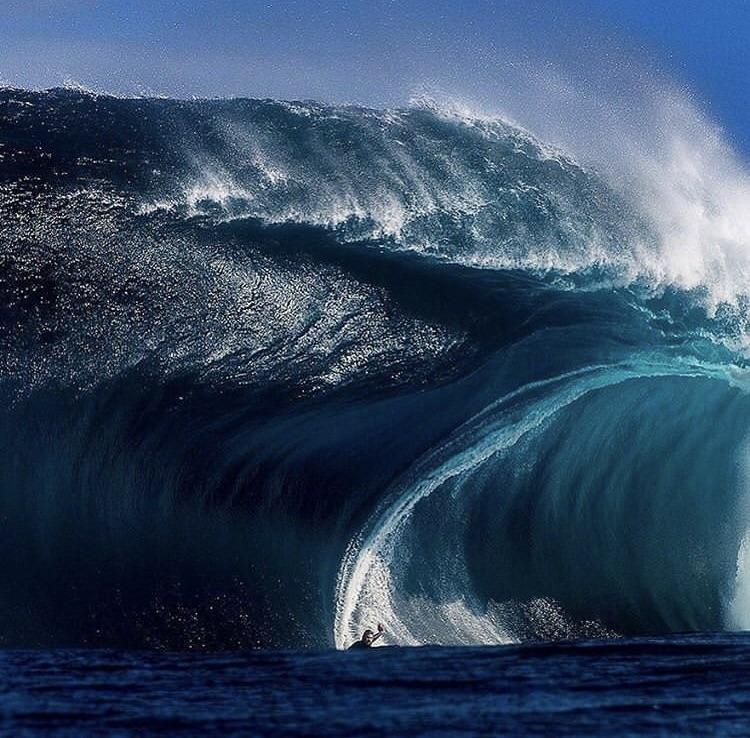 The wave itself builds kilometers out at sea and forms into a wild beast as it hits the razor sharp reef, reaching heights of 10 meters or, in surfing terms, 30 feet, the equivalent to a four-story building.
The entire ocean then folds over itself, creating a big barreling wave, large enough to fit a bus inside.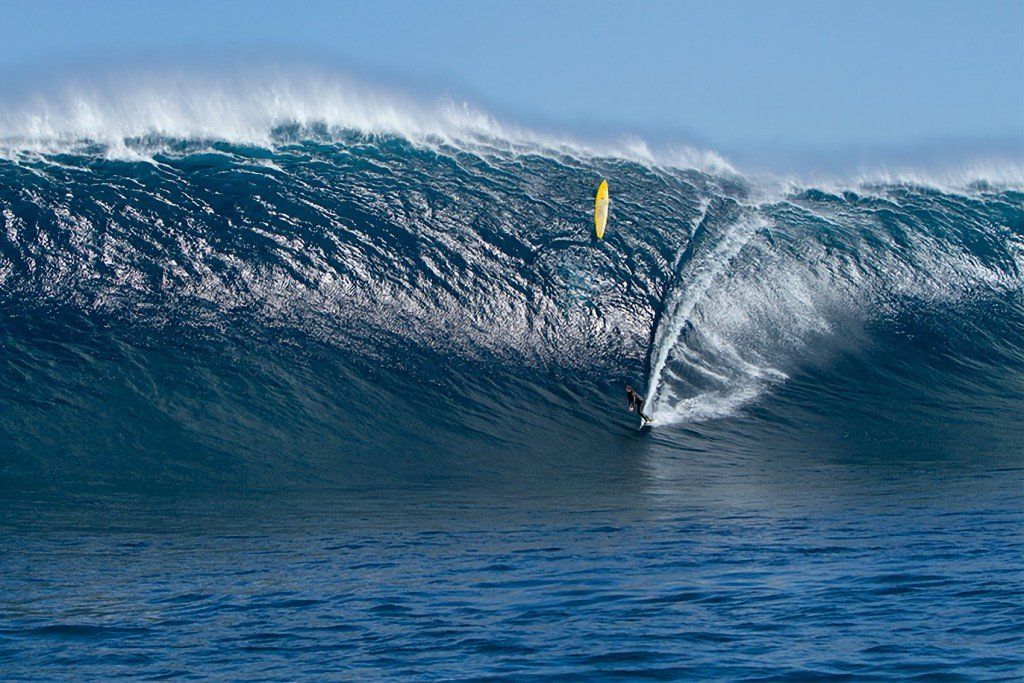 Cowaramup Bombora (also known as Cowie Bombie or simply Cow Bombie) is a big wave open-ocean surf break found on the south-west coast of Western Australia. It is located 2 kilometres offshore west of Gracetown which is near the town of Margaret River, world-renowned for its surf, and is 265 km south of the capital city Perth.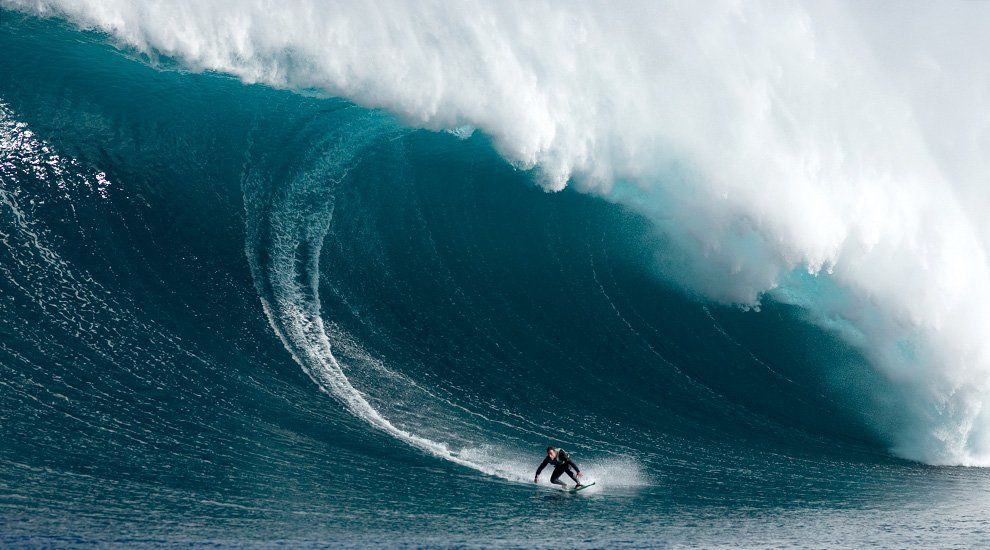 The break first came to the world's attention in 2007, when local Damon Eastaugh won the Big Wave Award after riding a wave estimated to be more than 50 feet.
It doesn't break often, requiring huge swells from the Southern Ocean, but these can produce very large waves often in excess of 40 ft with some contending for the biggest wave in Australia at over 60 ft.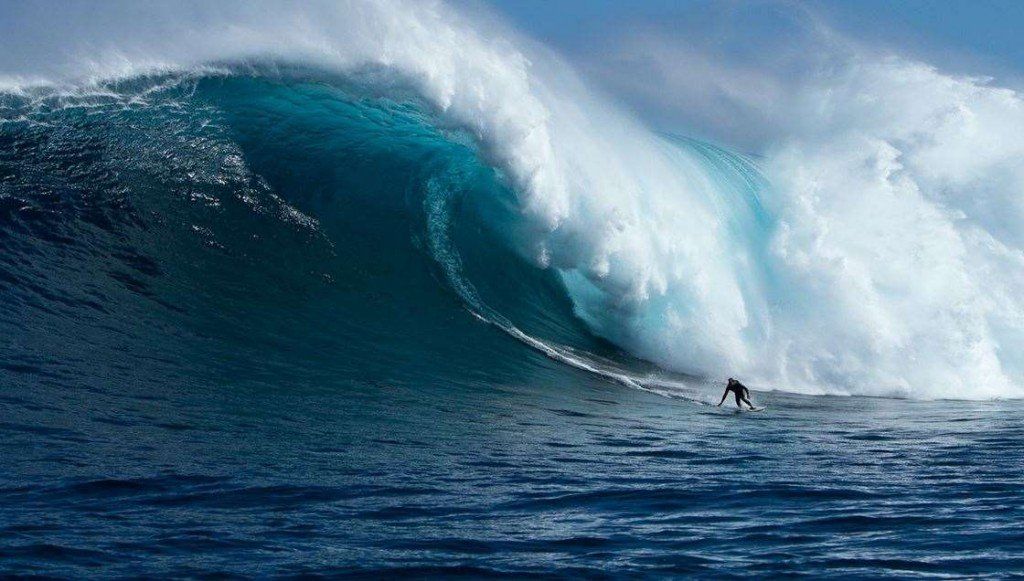 Its name comes from Cowaramup, the name of the small local townsite, and bombora, an Indigenous Australian term for an area of large sea waves breaking over a shallow area.
The break was featured in the 2013 documentary series Storm Surfers 3D which described it as "on its day, the tallest wave in Australia", where Tom Carroll survived a near-death wipeout while surfing with Ross Clarke-Jones. It also featured in the 2011 documentary film Fighting Fear.
In 2011, Western Australian surfer Damien Warr won the Oakley Biggest Wave award for his ride on Cow Bombie. In February 2015 Jarryd Foster, 27, won the Oakley Biggest Wave award for his ride on Cow Bombie. Mick Corbett was also a 2015 finalist for the same award with his Cow Bombie ride.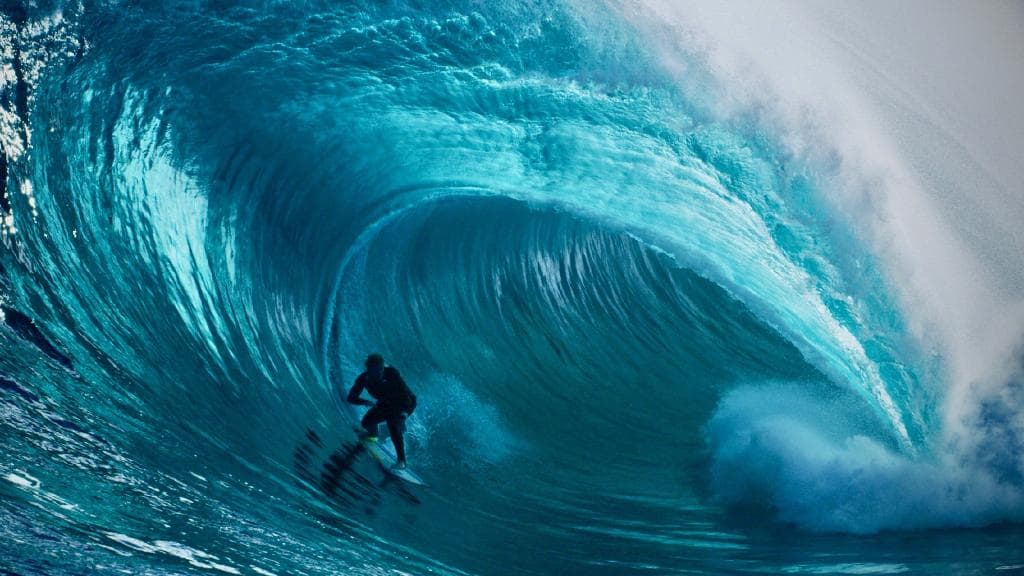 The Right, Western Australia. Situated about 40km off the WA coast near Walpole, the wave relies on a booming storm swell from the Indian Ocean, a low tide, a swell of more than 5m and a strong northwest wind. Accessible only by jet ski, Jake Osman was almost lost for words trying to explain his once-in-a-lifetime wave. "It had a dip at the bottom, almost like a step, which I had to navigate first,'' Osman said. "I then knew I was in the safe zone and then I could stand up and just cruise. It was incredible.'' "There's only two places on the planet that make barrel that big — Teahupoo in Tahiti and The Right".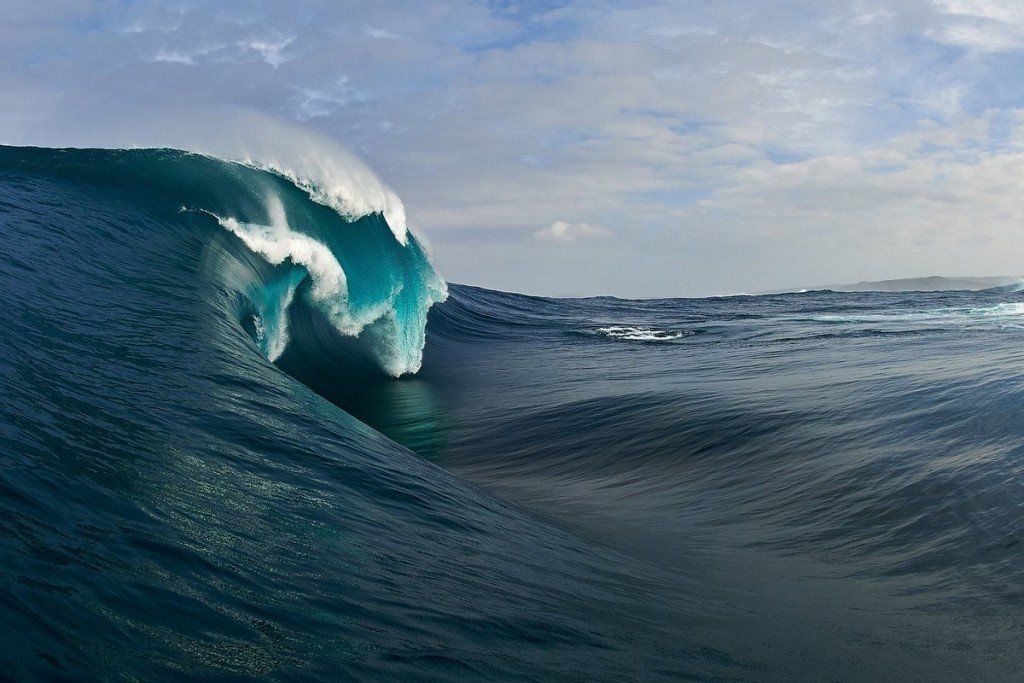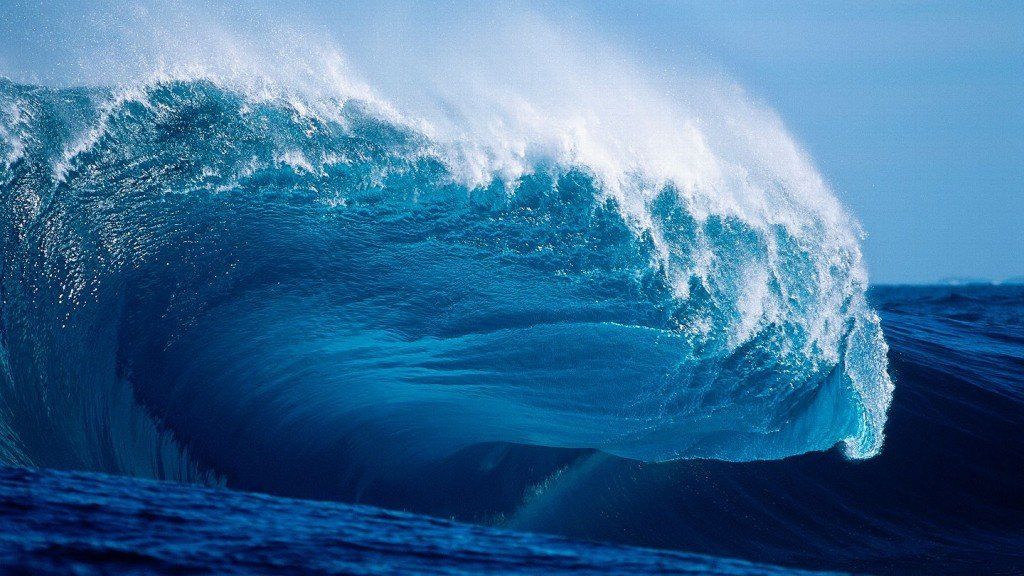 Cyclops is in the Far South of Western Australia and is an exposed reef break that only works once in a while with no particular seasonal pattern. Offshore winds blow from the northeast. Most of the surf here comes from groundswells and the ideal swell direction is from the southwest.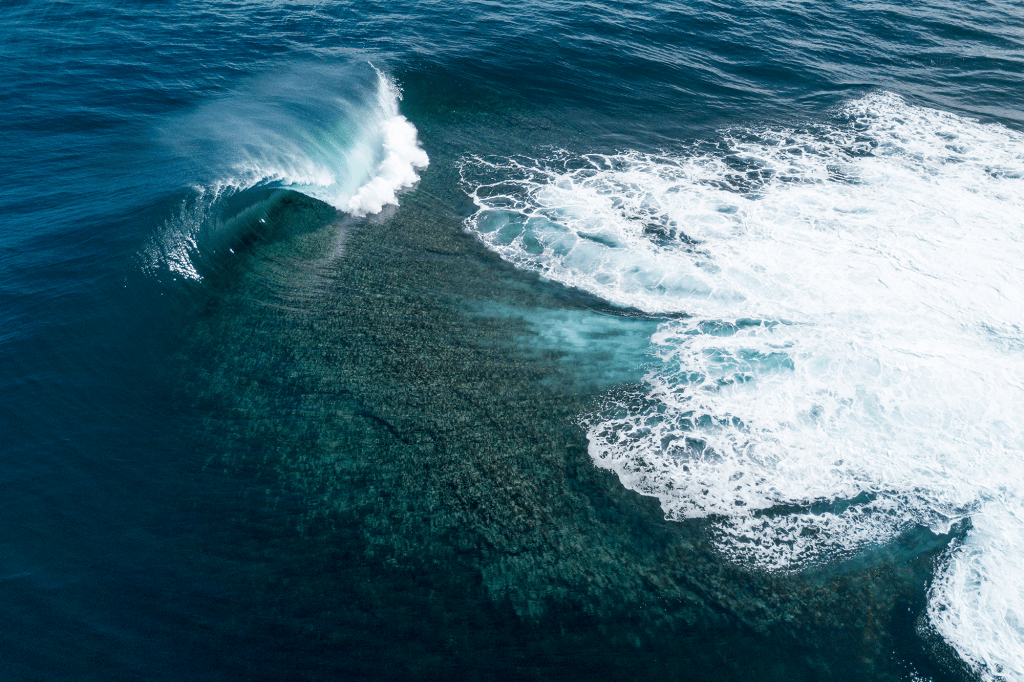 Originally pioneered by a handful of risk-taking bodyboarders, it's hard to say that Cyclops really qualifies as a surf spot. Located seven hours from Perth on the Esperance coast in Western Australia, the only way to get to the wave is by boat, which means medical assistance is not part of the equation. A photographer Jamie Scott took some amazing aerial pics see them at https://www.surfline.com/surf-news/long-road-cyclops/2150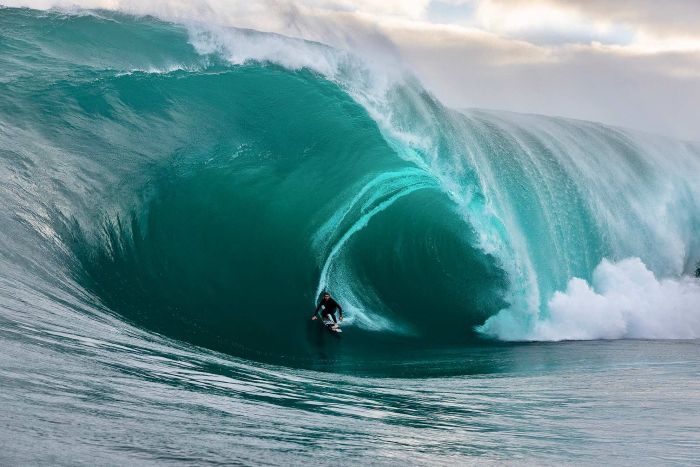 Located below sea level off the coast of Western Australia, Cyclops, named after the one-eyed giant from Greek mythology is both feared and revered. Impossible to paddle on a surfboard and almost unrideable towing behind a jet ski, the large rocks and remote location make this one of the most dangerous waves ever as you're far from help should anything go awry. The way Cyclops breaks, it goes from a lump of swell into the squarest pit on dry rock in a split second – flat swell to square pit!
More to come, a second blog will be published soon digging into the technology and methods of modern day big wave surfing!
If you enjoy our Blog Posts please subscribe below with your email and you will be notified whenever a new interesting surfing tale is published!
Also please use the Icons below to share this with your friends.
Aloha and good surfing!!