Carrying a surfboard! Over the ages, many different techniques have been developed to assist with the issue of how to carry a surfboard, particularly carrying longboards. For the typical big strong, bronzed surfer it wasn't a big issue, in fact it was a symbol of superiority to be big and strong enough. However, with the advent of the changing surfing demographics these big strong guys only represented a small percentage of the surfing community globally. People who were smaller, shorter, less strong or getting older were all facing this problem.
Some of the techniques of carrying surfboards are:
· The head carry
· The hip carry
· The double up
· The 2 person carry
· Shoulder straps
· Pull trailer
· New – The Claw
Finally, it's become easy carrying a surfboard anywhere! "The Claw", it's strong, reliable, secure, light, comfortable and super simple.
The Claw surfboard carrier is easy to use and simple in appearance, this surfboard handle seemed almost too simple; however, the design and finished product evolved from a lengthy and detailed design and testing process. It had to have many attributes such as:
1. Very light weight
2. Floats if dropped in the water
3. Easy grip to hold on to
4. Wide holding area so there is no balancing problems, just pick up the board and go
5. Comfortable to carry and control the board due to the shape (fingers and knuckles not touching the board) and the use of flexible materials
6. Non slip grip against the board (EVA strips) so the board won't slide out
7. Enough length to enable almost anyone to comfortably and easily reach across the board
8. Bright vibrant colours to look great but also be easy to see if it is dropped
9. Fully recyclable material (not disposable plastic rubbish)
10. Strong and tough – tested to 100kg
11. Long lasting, not a disposable commodity
12. Affordable pricing – to be an everyday commodity for surfers
The advantages over the other carrying methods are obvious with no need for complex or bulky extra equipment and absolutely simple and comfortable to use.
My personal beginning in surfing was in the mid 60's on the Gold Coast as a young schoolboy. The first time I rode a surfboard was with a school friend who lent me his big brother's old board. It was huge to say the least, and so heavy. 11' of what felt like concrete and steel, it was so heavy, and so the 250 metres walk to the beach was a huge problem for me. My friend was lucky; he had one of the latest fiberglass boards that was slightly shorter and a much lighter. For me the only way to get this huge board down to the water was going to be by dragging it. The 60's and 70's were the surfing revolution time in Australia developing a deep surfing culture.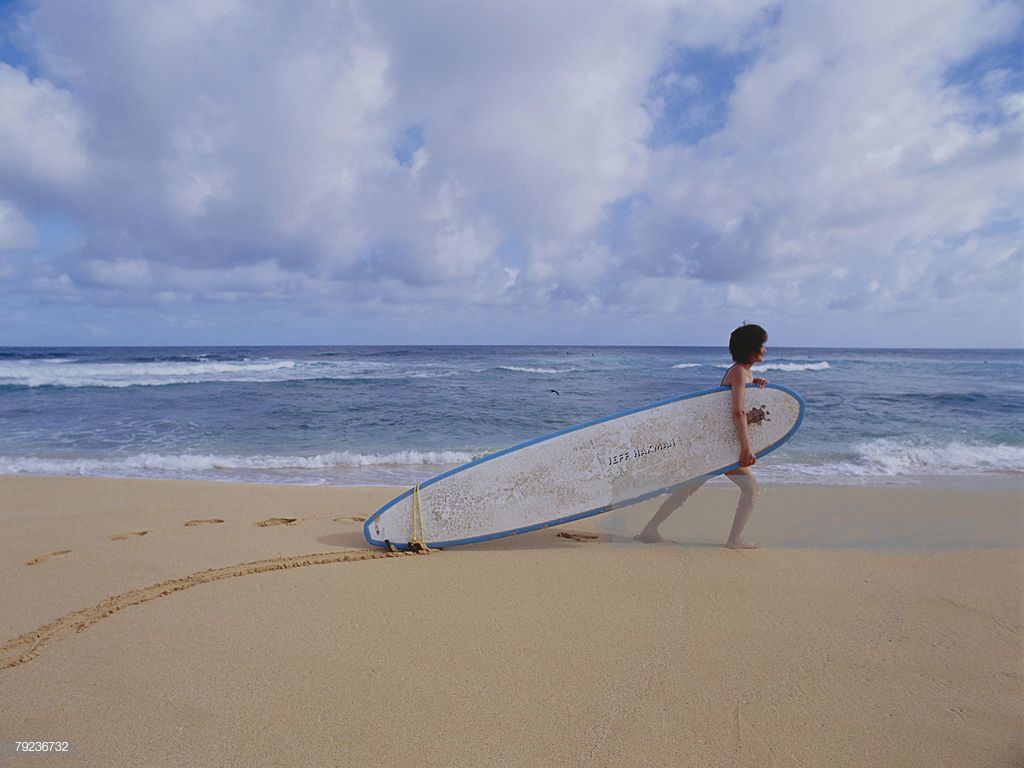 The big tall surfers, who seemed to be the only type who surfed in this era, appeared to easily carry these large boards to and from the beach. However, with a closer inspection you could see it wasn't so easy, even for them, these boards were heavy and they were wide and not easy to get a good grip of. Boards from this time onwards began to rapidly change shape and reduce in size and length, also the fiberglassing techniques were improving quickly and so boards became lighter and easier to carry.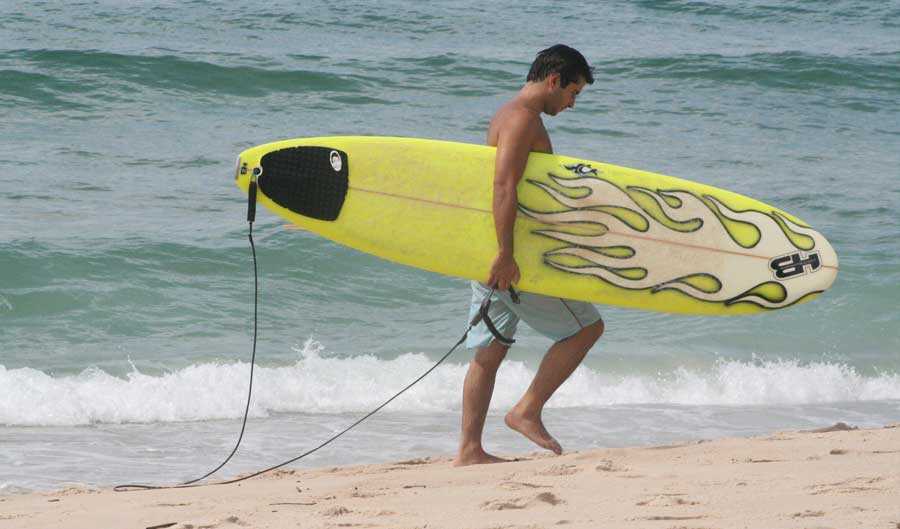 For a long time, the longboards and Mals (Malibu Boards) became a rarity and the standard boards continued to get shorter and lighter. After many years there was a slow but steady resurgence of the longboards, possibly the previous generation of surfers was getting older and wanting an easier surfing life. Nevertheless, things were changing and the longboards were definitely coming back. In addition, as surfing had increased in popularity with the smaller boards there were more and more women and girls taking up the sport. The longboards were more suitable for a wider variety of surfers as it was easier to paddle and catch waves with these boards. Therefore, the surfing demographics continued to change, more and more women and children were surfing as well and the guys could easily keep surfing as they got older.
Now the difficulty of carrying the boards had again come back!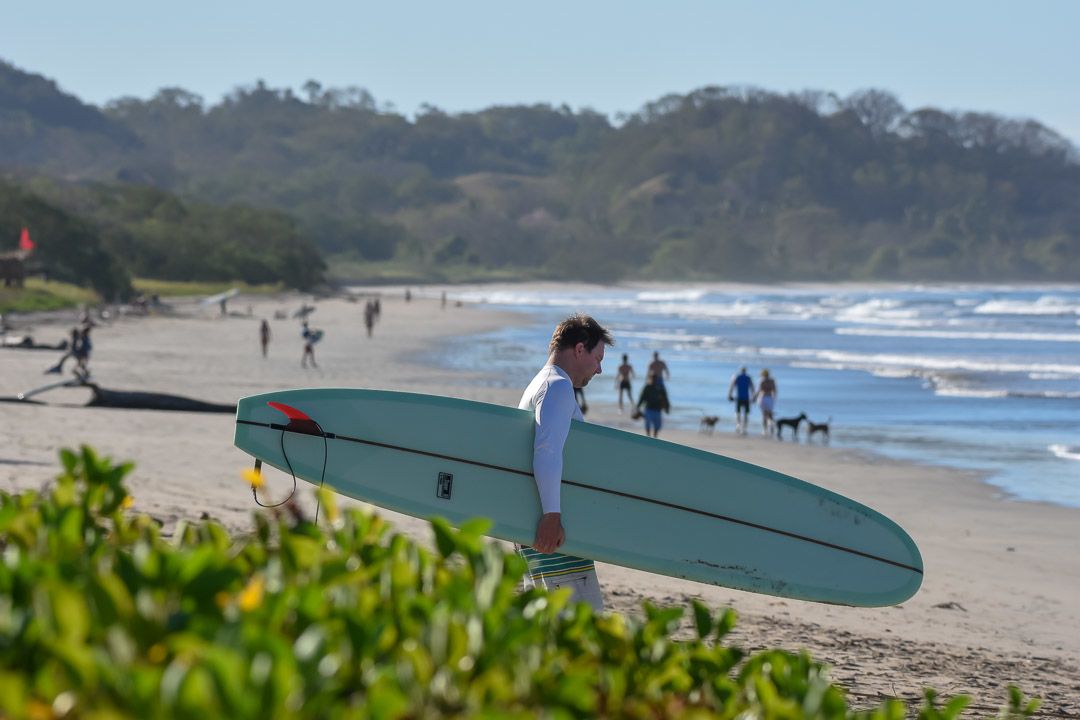 There were so many solutions, however none of them really simplified the job and often meant more gear to take and store at home and on the beach. The solutions were either uncomfortable or cumbersome and often impractical. Finally, a super simple solution arrived, The Claw, it seemed impossible that in all this time such a simple device had never been available, a simple, comfortable and light carry handle which could even be taken surfing with you if you want.
If you enjoy our Blog Posts please subscribe below with your email and you will be notified whenever a new interesting surfing tale is published!
Also please use the Icons below to share this with your friends.
Aloha and good surfing!!