Is Jet Surfing the future of wave riding?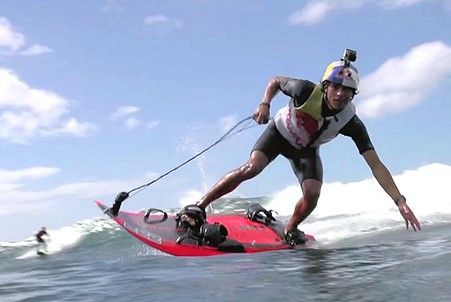 The future is now. A new division has been born in the world of surfing. Discover what jet surfing really means. (From Surfer Today 2020)
Imagine a blend of surfboards, wakeboards, bodyboards and kiteboards. Now, add motor power and a Formula 1 design engineer. Meet the new Jet Surf, a custom-designed carbon-fibre hull equipped with a two-stroke engine that can ride waves of all kinds.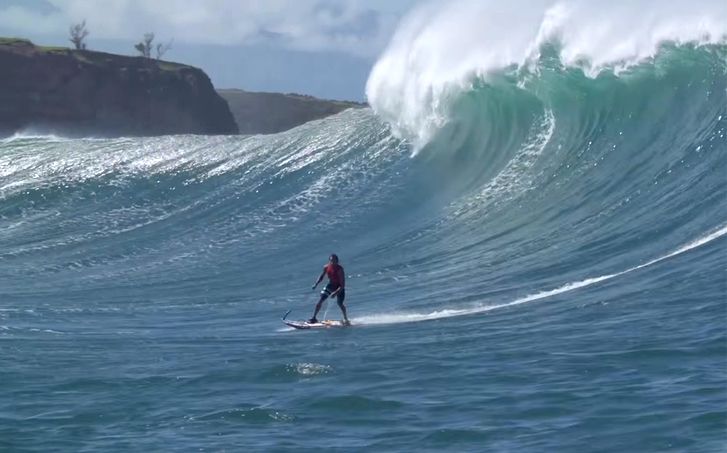 The Jet Surf has an automatic electronic remote control unit that is held in your hand along with a strong hand held cord for stability and can reach a maximum speed of 57 km/h (35 mph). Kai Lenny, Pato Teixeira and Jamie O'Brien tested it in the waves of Hawaii (see YouTube video below). The Jet Surf allows you to manage your speed and timing so you can easily manoeuvre within the breaking of the waves. It has a maxim reach of an amazing 75 consecutive kilometres.
The Jet Surf was created and designed by Martin Sula, a Formula 1 engineer from the Czech Republic. It weighs 12.5 kilograms and can be easily carried down to the beach by a single person.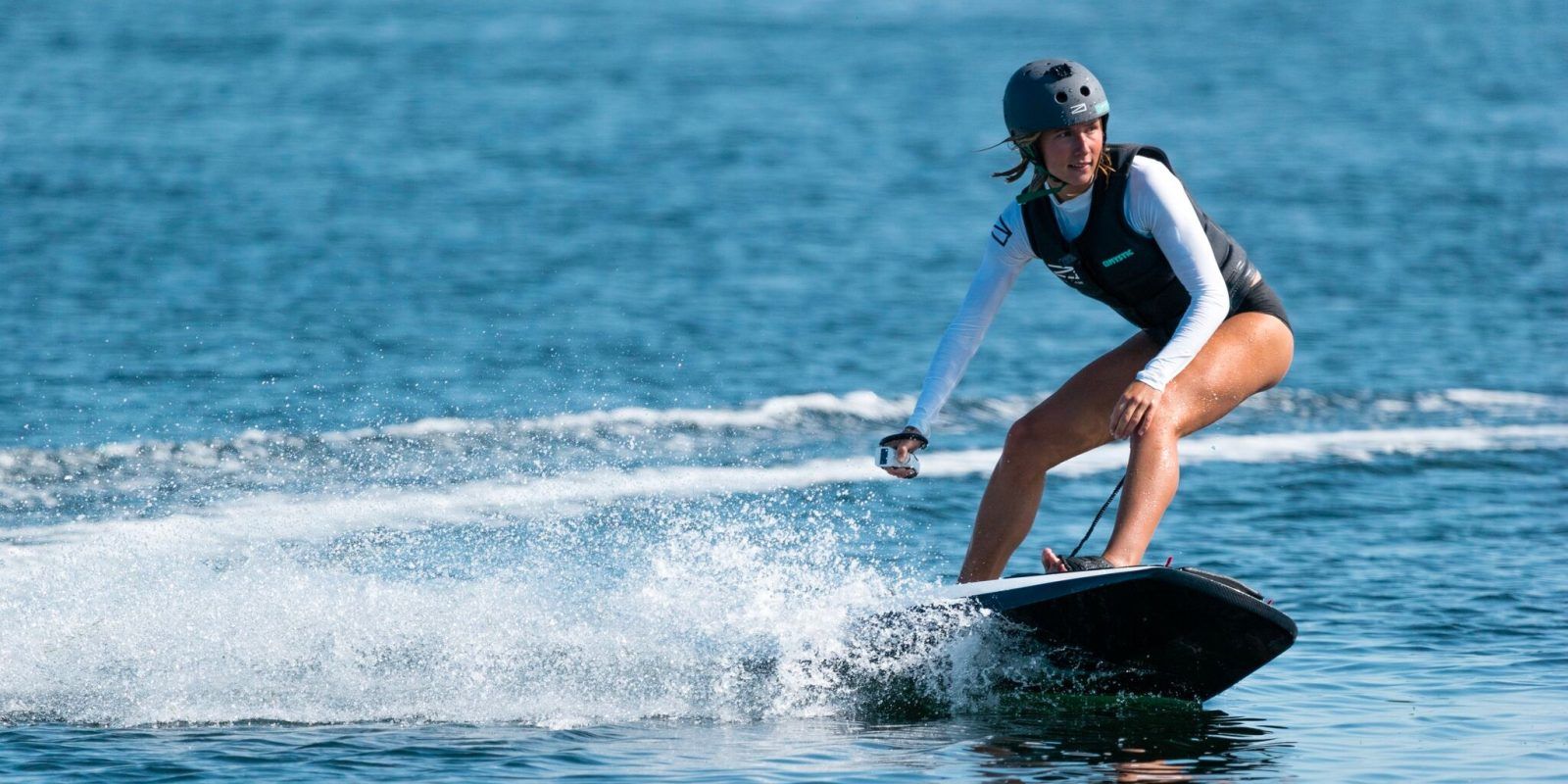 Since the Jet Surf, many other designs are hitting the market globally with both electric-powered boards and petrol motored versions. The big advantage of the petrol motors is the distance they can travel and the ease of refuelling, whereas the electric versions have a more limited running time and speed and the need for long charging times between sessions. Naturally, one big advantage the electric boards have is the lack of noise, there is certainly something to be said for maintaining the peace and quiet in the ocean.
What's the future for powered boards, well think back to when surfers first saw jet-skis and thought it was just another noisy nuisance and another stupid fad. Yet now, we sit in awe at what jet-skis do in launching big wave surfers into unbelievable monsters and then in the same breath rescuing them from the impossible situations the surfers get into from wiping out in these monsters. The future, well it is the future and we don't know, but there are many dreamers out there who will guide us into amazing new ideas as technology races forward.
Inflatables – no, not blow-up dolls
Inflatable boards are already beginning to make their mark. Go back in time, before boogie boards were the surf mat a mini inflatable mattress which became a popular surfing instrument in the 70's and later evolved to boogie boards. Well now inflatables are back, firstly it was inflatable SUP boards which were an incredibly practical version of the large SUP board because it was easy to transport to any location. In fact, most of them these days come as a full kit with pump, paddle and even a repair kit all rolled up into a back backpack and ready and able to go anywhere.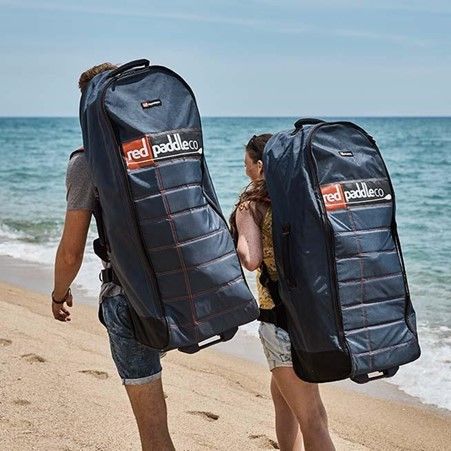 The inflatable SUPs have opened up many new possibilities for water activities and even remote surfing opportunities. Even the transport to the locations is simple as 4 full-sized SUP boards packed up will fit in the boot (trunk) of most standard cars with no need for roof racks or special carrying equipment.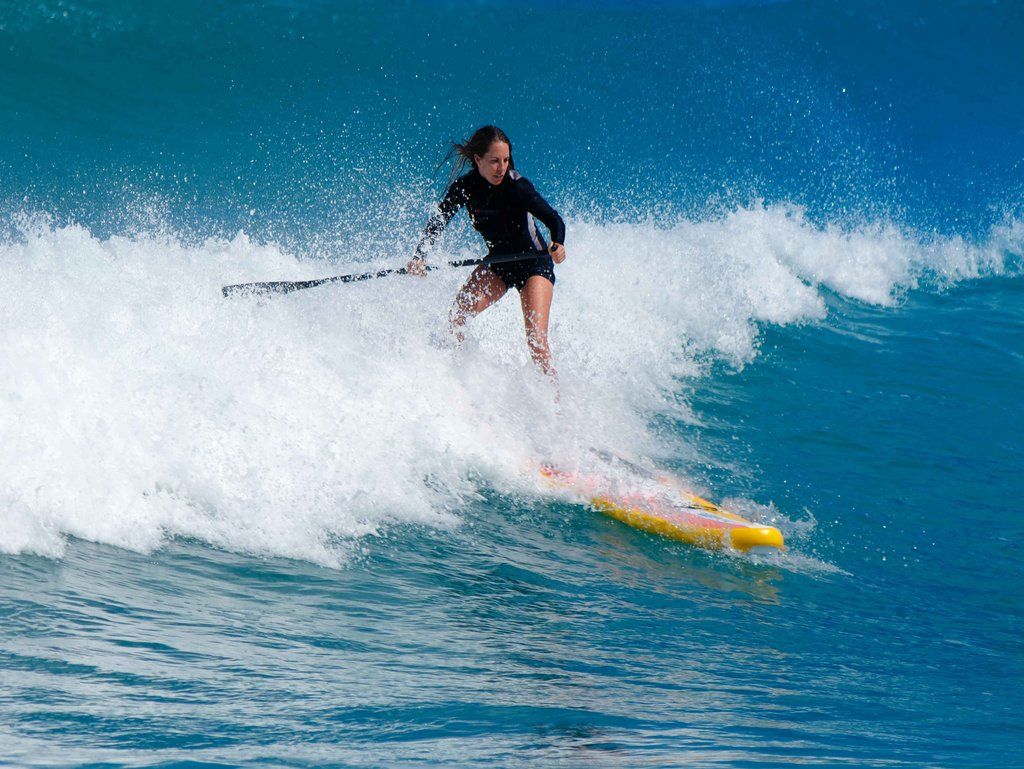 But now there is a new arrival, the inflatable surfboard! Well as silly as it sounds, but imagine a board that rolls up and goes in your backpack! Sure, the designs are still very chunky and nowhere near the ideal shapes, YET! But like everything, if there is a suitable purpose, then better designs will follow and get perfected. But the concept, well there is certainly a lot to be said for a board that rolls up into a backpack, doesn't get dings from handlers when it's being transported and maybe even backs up as a mattress to sleep on in those super remote locations!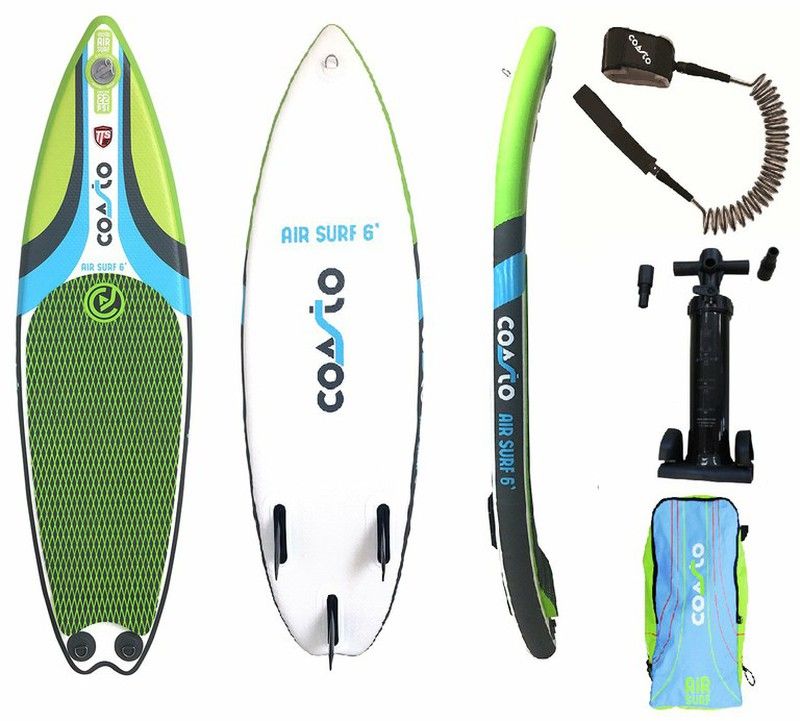 Wave Parks – the evolution
When the first wave park began most surfers again said, just another silly fad. Well not quite, today wave parks are becoming quite amazing. However, the viability of the good ones is questionable. Kelly Slater's Surf Ranch has been noted to admitting that one wave could cost up to $450 USD, WOW. So the viability of wave parks is a tricky mix of infrastructure costs, operating costs and numbers of waves able to be produced/hour or per day.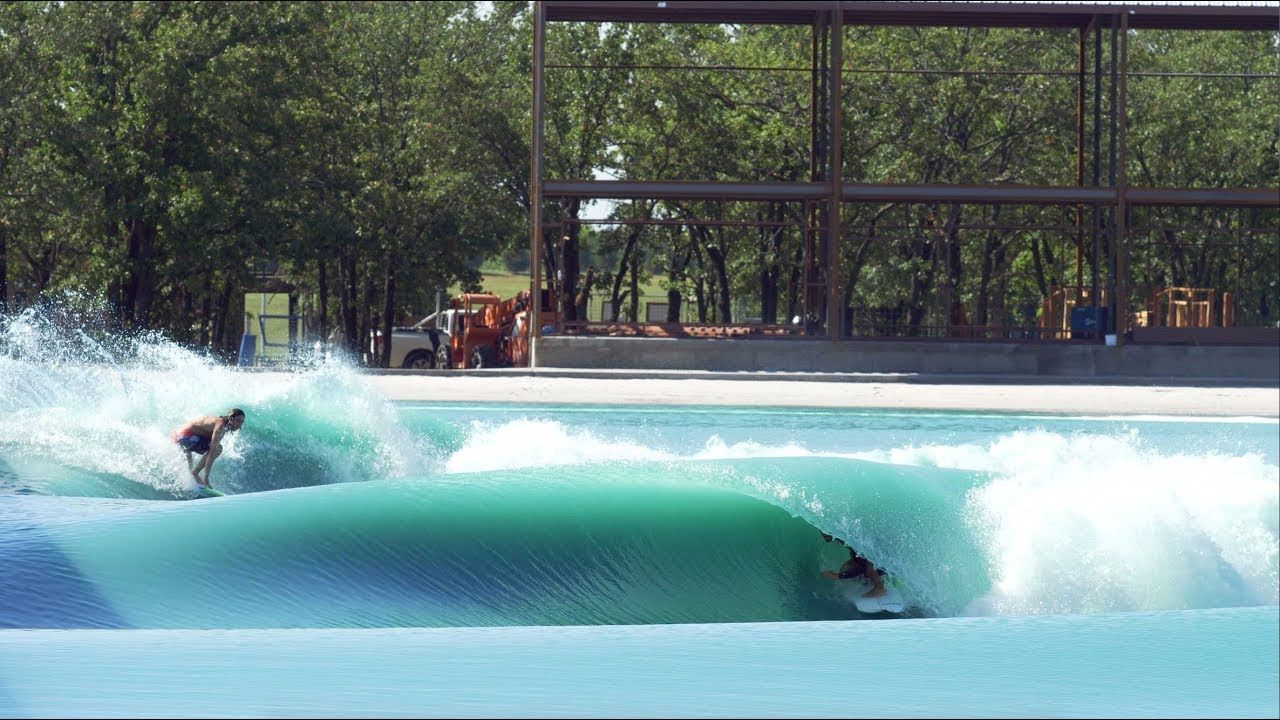 There is however a new park developed as a testing ground for new technology and design in Australia – Surf Lakes. So far the testing and trialing at Surf Lakes is showing very positive signs that this will be a viable design for Surf Parks with one constraint, you need land, a lot of land. The lake it's self is almost 20 hectares (50 acres) and then needs 12 to 15 hectares of surrounding land minimum. However, the design is easy to compliment with surrounding development such as hotels and resorts or just holiday apartments and retreats.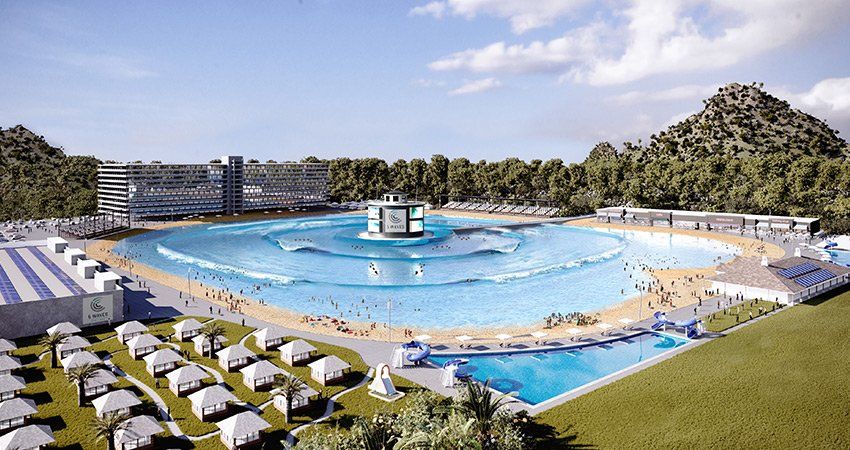 Located in Central Queensland, Australia, Surf Lakes is the world's largest wave pool. equipped with "5 Waves Technology", the pool has been designed to potentially produce over 2,000 waves per hour, suitable for all skill levels and surf craft. This technology mimics the ocean ground swells, with waves coming in sets of two to six, and break over specially shaped reefs.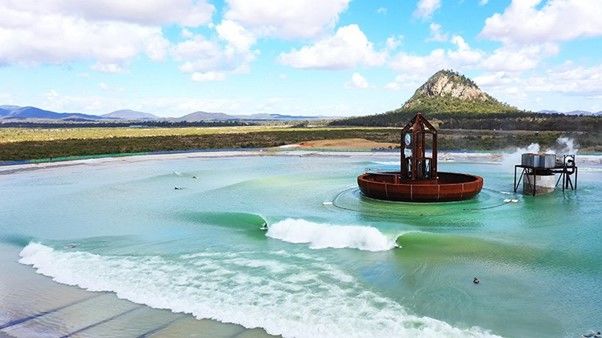 The 5 Waves Technology at Surf Lakes works by creating concentric waves that radiate outwards from the central wave device. The waves break upon a variety of submerged reefs and shorelines. Each reef is contoured differently to allow the wave energy to dissipate and therefore create waves that break at different speeds, shapes and sizes. Up to ten separate waves can be generated from each pulse of the central wave device.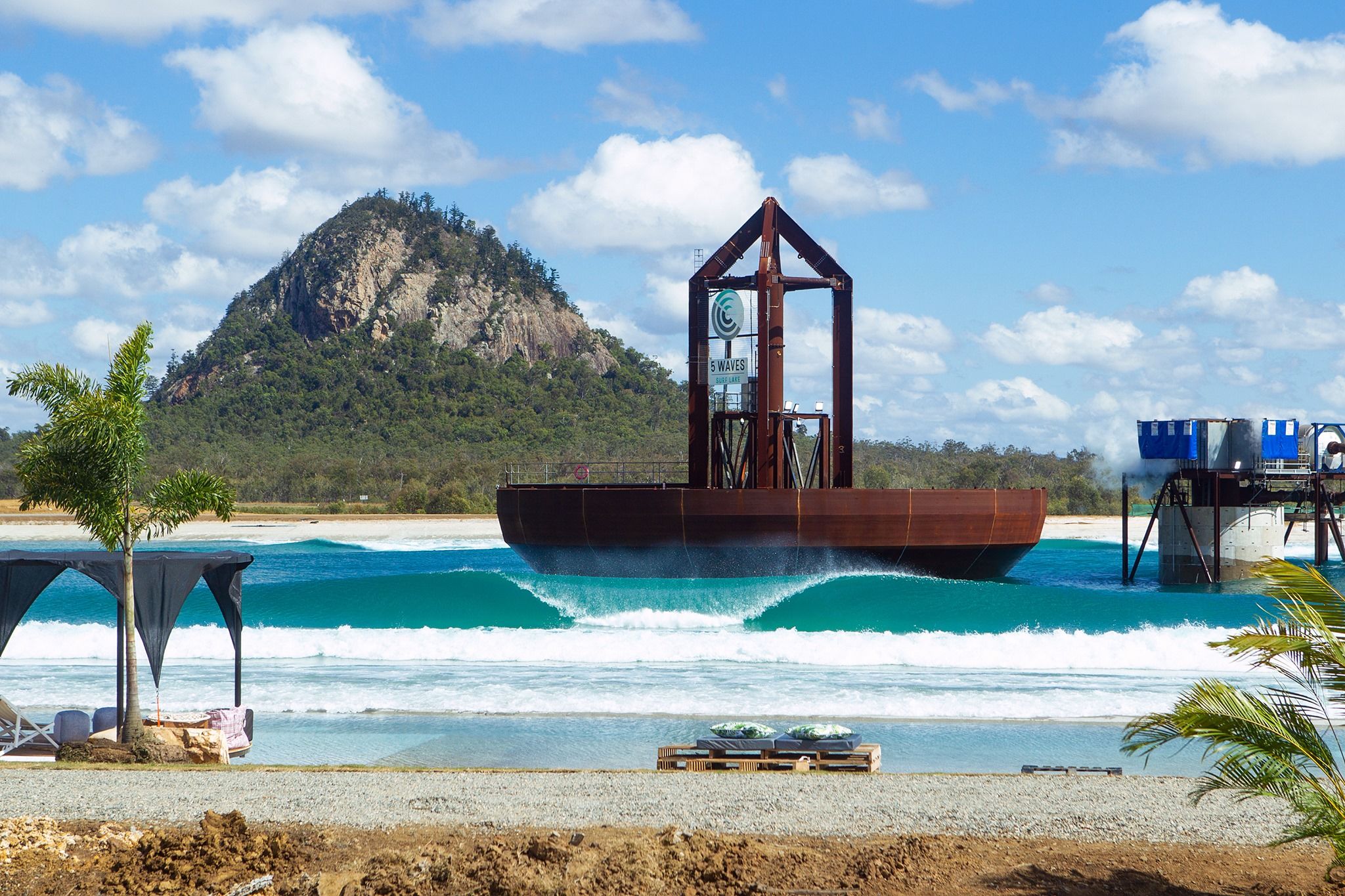 The pool has waves for all abilities: level 1 beginner — where people can learn to paddle, catch waves and stand up on soft boards; level 2 intermediate — features a gentle wave that's easy to catch, ride and learn to do turns; level 3 advance — a slightly larger wave, with a steeper take-off and more critical sections for advanced turns as well as aerial maneuvers; level 4 expert — break starts with a five-second barrel, followed by a section for advanced turns and airs. Suitable for training, competitions and events; level 5 pro — the break is a heavy slab, suitable for high-level surfers and bodyboarders. The face height is over 2 meters, the largest of all their waves.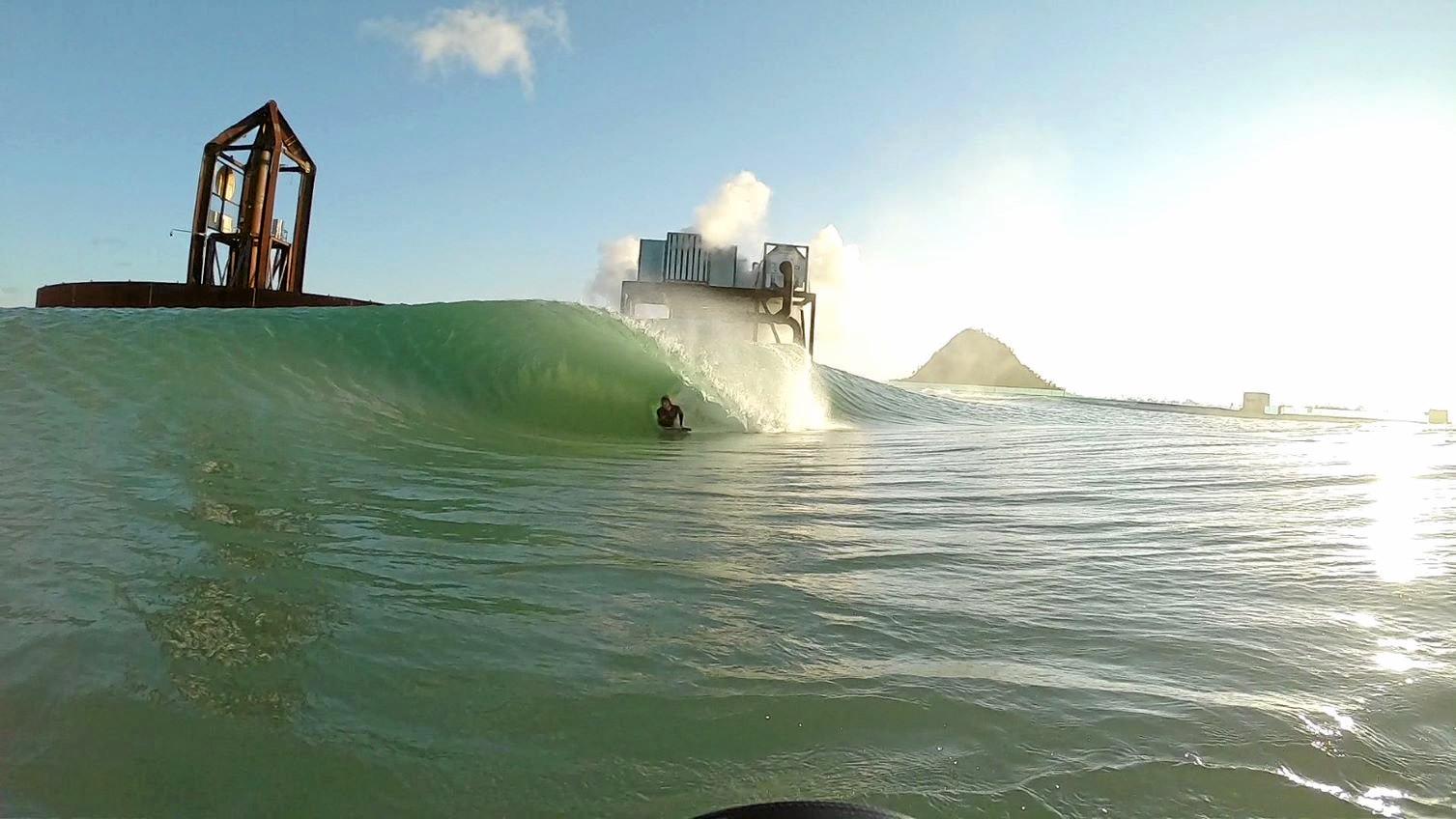 If you enjoy our Blog Posts please subscribe below with your email and you will be notified whenever a new interesting surfing tale is published!
Also please use the Icons below to share this with your friends.
Aloha and good surfing!!